Dental Implants in Sun City Center
---
Jacobs and Thatcher Dentistry provides dental implants in Sun City Center, FL. Call 813-634-1932 to learn more or request an appointment online. 
What Are Dental Implants?
---
Dental implants are restorative treatments that replace missing teeth with biocompatible posts or screws surgically implants into the jaw, and topped with an artificial tooth. The posts of the implants serve as a natural tooth root, preventing loss of jawbone while anchoring the artificial tooth securely to your jaw. 
Dental implants are recognized as the premium restorative treatment to replace missing teeth because they mimic not only the look and function of natural teeth but also mimic the function of the tooth root.  
Dental implants are available to replace single missing teeth, multiple missing teeth in a row, and a complete upper or lower arch of teeth. 
---
Single Tooth Dental Implants
---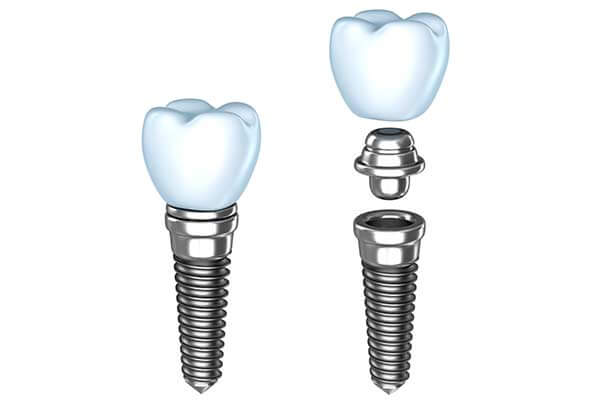 ---
A dental implant to replace a single missing tooth will be surgically placed in the jaw. Over the following months, a process known as osseointegration will take place. Osseointegration is the process by which the jawbone and soft tissues grow up the implanted screw just like they do with natural tooth roots. Once osseointegration is complete an artificial tooth can be permanently attached to the screw. 
---
Implant Supported Bridges
---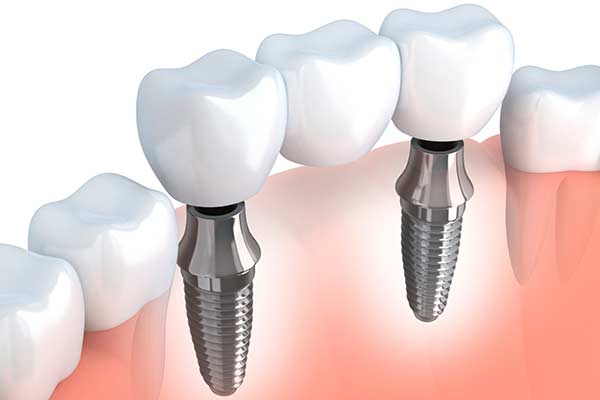 ---
An implant-supported bridge is a restorative solution for spaces where three or more adjacent teeth are missing. This restoration typically requires two implants to support the porcelain bridge. The bridge provides a functional and esthetic replacement for a patient's natural teeth.
---
---
---
Implant Supported Dentures
---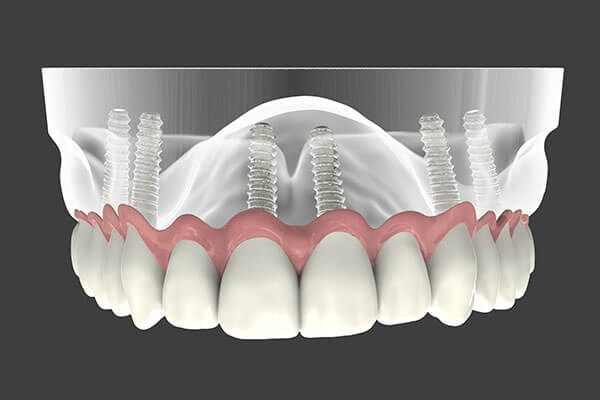 ---
For patients who are missing many or all of their teeth, implant-supported dentures may be an alternative to traditional dentures. Implants can support both full and partial fixed and removable dentures.  If a removable denture is selected, the denture will "snap" onto the implant rather than requiring the use of denture paste or adhesives. 
---
---
---
Benefits of Dental Implants
---
Dental implants are considered the gold standard in tooth replacement due to the many benefits they offer:
Preserve jaw bone

Restore bite force

Extremely durable

Natural appearance

Maintain facial structure

Cavity-resistant

Fewer dental treatments 

Pain reduction

Supports adjacent teeth

Reduces risk of further tooth loss

Prevent nearby teeth from shifting into gaps left by missing teeth
---
Are You a Good Candidate for Implants?
---
Patients missing one or more teeth are often good candidates for dental implants. However, to be eligible, you must be free of gum disease. You must be healthy enough to undergo surgery. Certain medications and underlying conditions may impact your eligibility.  You will also need to have sufficient jawbone remaining to support the implants. If you have lost a significant amount of jaw bone, you may need a bone grafting procedure before receiving your dental implants. 
---
Why Choose Jacobs and Thatcher Dentistry?
---
Jacobs and Thatcher Dentistry specialize in prosthodontics, a specialized field of dentistry focused on the design, creation, and surgical placement of artificial teeth restorations and replacements. Using the latest innovations in technology and surgical techniques,  our dentists are respected in the field of implant dentistry for their commitment to excellence in dental restorations.
 Our team includes Board-Certified prosthodontists, who are members of many continuing education associations and organizations, including the American Academy of Implant Dentistry, Southeastern Prosthodontic Study Clubs, Academy of Osseointegration, and the Southeastern Academy of Prosthodontists.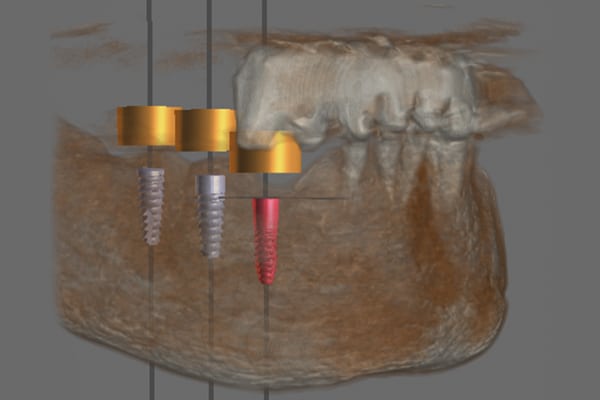 Our team uses 3D fully guided implant surgery to accurately design and place your dental implants. Guided implant surgery uses 3D imaging along with specialized software to minimize discomfort, enhance the esthetics of your dental implants, and ensure long-term functionality. 
---
Frequently Asked Questions About Dental Implants
---
---
---
---