Emergency Dentistry in Sun City Center
---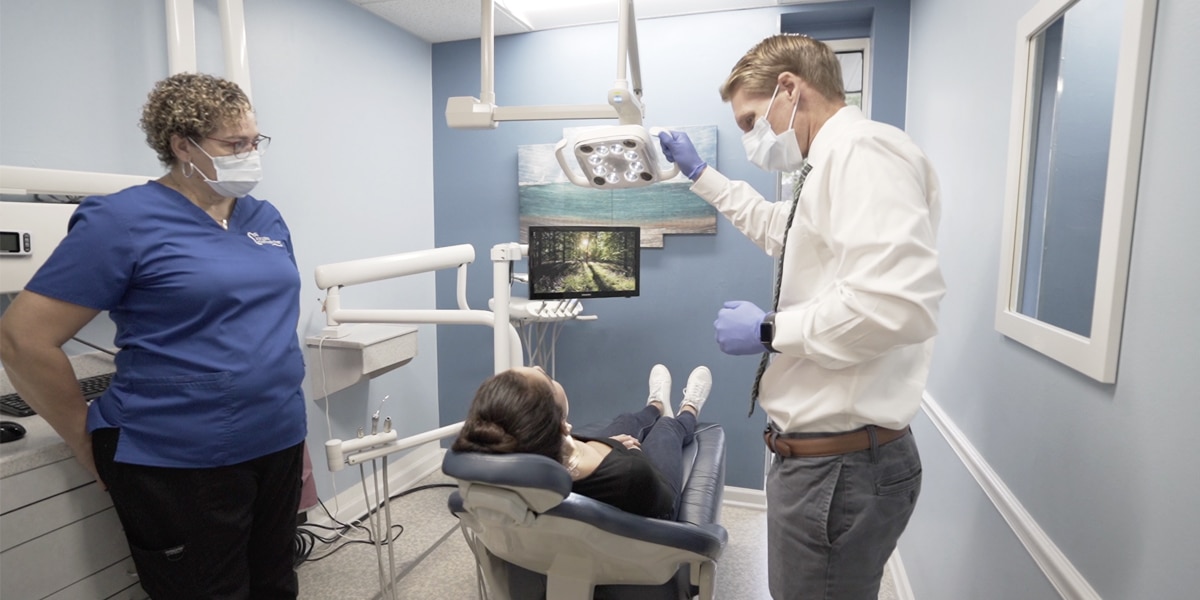 ---
Jacobs and Thatcher Dentistry provides emergency dentist for patients in Sun City Center, FL. Call 813-634-1932 for urgent dental treatment.
During office hours, immediate attention will be given to your situation, and you will be seen as soon as possible. After office hours, please give the office a call and follow the instructions provided. Your call will be returned as soon as possible. If you are experiencing a serious or life threatening emergency, please call 911 or visit the nearest emergency room.
Our Contact Information
---
What Is Emergency Dentistry?
---
Emergency dentistry includes all procedures and treatments that need to be immediately provided to preserve natural teeth, treat infections, alleviate severe pain, and clean and dress soft tissue injuries. Examples of dental emergencies include:
Sudden new toothache. A sudden severe toothache may result from a crack in a tooth, an infection in a tooth, severe decay in a tooth, or even an abscess. A severe toothache is a dental emergency.
Bleeding or swollen gums. Bleeding or swollen gums may result from gum disease, an infection in the pulp of the tooth, or as the result of an abscess. If your gums begin bleeding for no reason, schedule emergency dental treatment. 
Fractured teeth. Cracked teeth are at risk of developing infections. If you've cracked a tooth, see a dentist ASAP.
Knocked-out teeth. A tooth that has been knocked out is a dental emergency. If you can locate the tooth, bring it to your emergency dental appointment. In some cases, knocked-out teeth can be reimplanted and saved.
Cracked dental crowns. Cracked dental crowns are dental emergencies because they put the natural tooth underneath at risk of decay or infection. 
Dental crowns that have fallen off. If a dental crown falls off, contact your dentist for emergency treatment. In some cases, the crown may be rebonded to the tooth. If the crown fell off because it didn't fit properly, you may be fitted with a temporary crown until your new crown is ready.
Fillings that have fallen out. When a filling falls out it can expose the interior of the tooth to bacteria that cause decay and infection. If you've lost a filling, contact your dentist for emergency treatment.
Trauma to the teeth/jaw from an injury or accident. If you've suffered trauma from a fall or accident, seek medical treatment if you have sustained other injuries. If the injury is limited to your mouth, contact an emergency dentist immediately. 
---
Emergency Dental Procedures Offered
---
The type of emergency dental care that you need will depend upon the type of dental trauma, injury, decay, or infection. Treatments may include:
Placement of a temporary dental crown

Root canal therapy

Antibiotic administration

Replacing a missing filling

Removing decay from the tooth

Cleaning and disinfecting a wound in the mouth
---
Why Choose Jacobs and Thatcher Dentistry?
---
For six decades, Jacobs and Thatcher Dentistry has provided emergency dental care to thousands of patients from the Sun City Center region. As the oldest dental practice serving the region, we're also an incredibly modern dental practice, with all the latest dental technologies available. Our onsite lab allows for expedited design and manufacturing of dental crowns used in dental emergencies.  For your comfort, we also offer sedation dentistry. 
---
---
Frequently Asked Questions About Emergency Dentistry
---
---
If you've experienced a dental emergency, call 813-634-1932 during normal business hours, or follow the message prompts after hours. If you are experiencing significant bleeding or a life-threatening emergency go to the nearest emergency room.
---
---
Below are instructions for handling some common dental emergencies.
---
---
---